A Tiny Cottage Kitchen
I know I've shared a few peaks of our kitchen before.Today I thought I would share why I love our tiny cottage kitchen.
our kitchen and dining room
Our kitchen is the smallest space in our home.But it works.Luckily we have 10 foot ceilings, or I'm not sure I could deal.
I wish I had a few before shots I could share. Unfortunately it was BB (Before Blogging.)Our kitchen cabinets were a lovely pale shade of seafoam green.The trim was lavendar. (Yep, I did say lavendar.....in a kitchen.)There was pretty floral wallpaper that brought it all together quit (uggghhh) nicely.
So we updated it. On a budget of course.We painted the kitchen cabinets. Lowes Valspar Brilliant White high gloss finish.We painted the trim in the same.Ditched the wallpaper.We painted the walls.And as always, added a few simple touches of good old cottage charm.
a peak into the dining room from the kitchen
Thank goodness our dining room is directly off the tiny kitchen.It makes the space functional when having guests over.I think my favorite part of the entire kitchen are the little nooks above the cabinets.They add some of that character and charm I love about living in an old home.I filled them with the seagrass baskets $9.99 each from Michael's to add some texture.I love layering some natural elements of texture to each and every space.
So that's it folks. No fancy carerra marble.No custom cabinetry.No stainless steel appliances.Just our little tiny cottage kitchen that we have grown to love because it's ours.
Carrie
Linking up to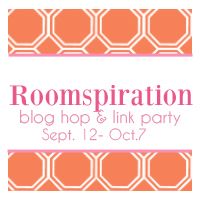 Between Naps on the PorchCottage and Vine