California Fish Grill- Irvine, CA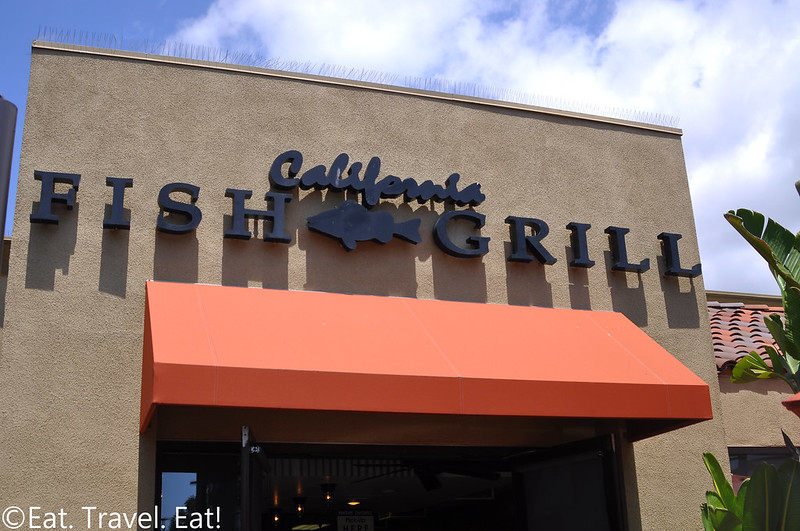 Having read Edwin Goei of Monster Munching's positive review of California Fish Grill and a recent feature on its poke on Stick a Fork In It of OC Weekly and being in the mood for poke and cooked fish while in Irvine, we finally visited California Fish Grill, a fast-casual seafood joint.
During our weekday visit at lunchtime, it was packed, with local employees and families coming in for lunch. Both indoor and outdoor seating were packed except for the bar near the kitchen, people were ordering both take in and take out, and the kitchen's grill was completely filled with fish filets. Talk about good business!
We began our meal with the
New England Clam Chowder Bowl (4.49 USD)
, a large bowl for a very reasonable price. It was not jam packed with clams, nor was it very heavy on the clam flavor (instead favoring the cream instead), but it was freshly made, with the potatoes cut into sharp cubes, and veggies cut into small pieces. We also liked that it came with oyster crackers--overall, a positive start to the meal.
Next, came the
Ahi Poke (6.99 USD)
appetizer. Here, the ahi tuna was cut into miniscule cubes--just slightly larger than the accompanying minced onions and scallions--dressed with soy sauce and Huy Fong's chili sauce and topped with black sesame seeds. It was rather lightly flavored to be coupled with the flavorful, fresh-fried, warm tortilla chips, and I wish the tuna pieces were larger so its flavor could be more discernible. Make sure to grab some house made salsa from the accompanying bar (which has lemon, cilantro, two types of tartar sauce (New England and house made), cocktail sauce, and salsa) for the extra chips remaining after finishing the poke.
(side note: the tartar sauces went well with our entree items and the chips)
California Fish Grill's charbroiled fish items come with rice or parsley garnished shoestring fries (or a mix of both), bread, and a choice of coleslaw, grilled zucchini, or beans, and can be prepared with a garlic butter sauce or cajun spice. We requested for our
Cajun Pan Seared Mahi (9.99 USD)
to come with white rice and coleslaw. While the fish was enjoyable with its light spice, firm flesh, and intrinsic oils, we didn't care too much for the rice, which were rounded, elliptical orbs. The coleslaw, meanwhile, was light and crisp, and the bread soft in both exterior and interior.
We greatly enjoyed the
Trout (8.99 USD)
, which was extremely tender, flaky and soft, and the creamy garlic butter sauce which further accented the softness of the fish. We also liked that our piece of trout wasn't too charred--though we didn't request it to be so, it might be a good request for we saw some other fish fillets being quite charred coming off the grill. On the other hand, the grilled zucchini was a bit too charred for our taste.
Reasonable prices, fine quality, large servings of everything seafood, and quick service make California Fish Grill as solid go-to option for lunch or dinner. It's no wonder why it was so packed when we visited at the lunch rush hour.
California Fish Grill
3988 Barranca Pky #B
Irvine, CA 92606
Tel: (949) 654-3838