Cranberry Sauerkraut Pulled Pork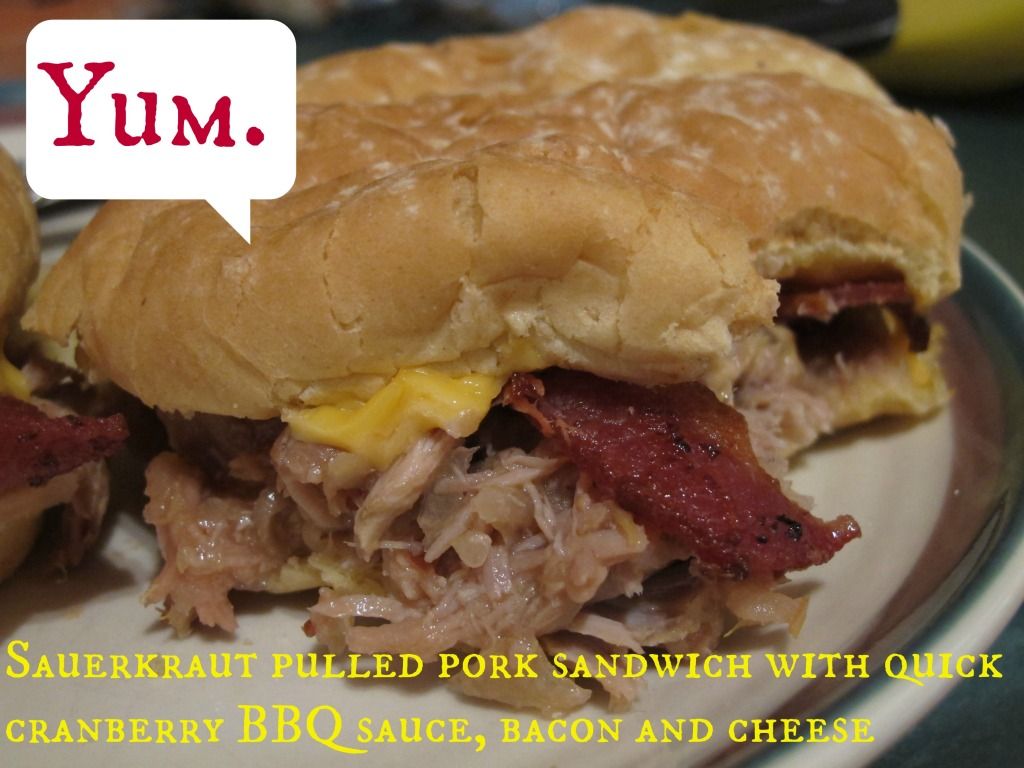 All I am going to say to you is this: you should make this. I have a very good feeling if you do, you will really, and I mean, really, enjoy it.


To start put a nice pork roast and a bunch of sauerkraut in your crock pot. You can use fresh sauerkraut, canned, whatever you have or like. Don't add anything else, no seasoning, no liquid (just any liquid from the kraut). Cook it on high for 6 hours until the pork is nice and tender. Then pull the pork out of the crock pot and shred, then return it to the crock pot. You can keep all the sauerkraut in the crock pot or remove some, depending on how much you want in with your pork. Aside from adding flavor the sauerkraut keeps the pork nice and tender.

Now make your BBQ sauce. You need:

1 12 ounce bag of fresh cranberries1/2 cup brown sugarsome diced pickled jalapenos (to your taste, depending on how spicy you want this use a little or a lot)1/2 cup orange juice1/4 cup water1/2 cup ketchup 1/2 cup apple cider vinegar1/2 Tbsp yellow mustard1 Tbsp Worcestershire sauce
In a saucepan, add the first five ingredients and cook over medium high heat, until all of the cranberries have popped and the liquid has reduced by about 1/3. Make sure to stir the mixture and not let it burn.
Then add the rest of the ingredients and cook over low heat until the sauce thickens.
Place sauce in blender and puree. Taste and adjust seasonings (salt, pepper) to your taste.
Now mix your BBQ sauce in with your shredded pork and sauerkraut.
Place heaping piles of your pork onto super soft rolls, and top with your favorite cheese and a couple of slices of crispy bacon.
Enjoy every bite.